What to pack for Catamaran Sailing Holidays
For people who are renting catamaran in Croatia for the first time, couple of advises will come in hand. Since catamaran trip is not the same as going to hotel, item to bring will be somewhat different. Here you can find some guidelines on what to bring when coming for sailing holiday with Charter Catamaran Croatia.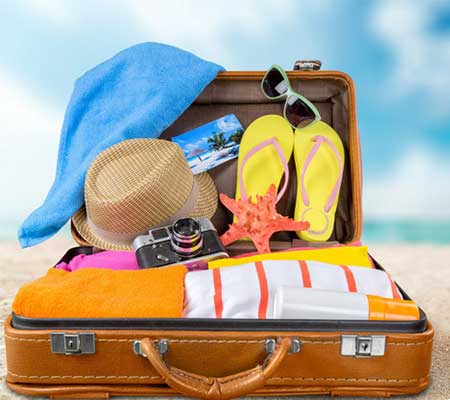 Bags and suitcases
First thing's first. Before start packing, you have to choose where to put all necessary gear and items.  When accommodated on catamaran, there in not much room for your luggage, so size and material matters.  It is better to use soft bags, rather hard suitcases. Why? Soft bags are easier to store and carry on to the catamaran. If you really don't have any suitably soft bags, suitcases are better to be made out of softer materials.
Clothes
Depending on the time of your catamaran sailing holidays, it is necessary to bring appropriate clothes. If your catamaran sailing is in June, July, August and first part of September, light clothes will be enough.  Shorts, T-shirts, light shoes or sandals and something casual for dinners in tons, with one warmer waterproof jacket just in case. Bring sailing gloves if you intend to sail and work with the lines.
For safety on board, bring some closed anti-slip shoes (deck shoes). Also bring a sun hat, sunglasses and  sunscreen with high SPF for protection from the sun and UV radiation. Besides direct sunbeams, you will also be exposed to reflection from the water.
For preseason and postseason sailing in Croatia (April, May, October and November), bring some warm trousers and sweater and definitely include wet gear too!
Personal hygiene and medications
You don't have to pack soap, shampoo, shower gel, sunscreen etc., as it is better to buy everything once in Croatia. Although all our catamaran yachts have first aid kit, it will be best to include antiseptic cream, travel sickness pills, insect repellent and anything else you personally may need.
Documents & cash
Don't forget your ID card (EU member countries) or passport. For non-EU citizens it is important to check with Croatian consulate or your government office whether you need visa to enter Croatia. If You intend to skipper the catamaran chartered, also bring your sailing license or certificates as they are necessary to takeover the boat, and are sometimes requested by the Port Authorities.  If personal travel insurance is purchased, bring policy and related documents. European Union citizens can also bring EU medical card. Also bring your drivers license, if you intend to rent a car, scooter, motorbike or other vehicle whilst on holiday (islands like Vis, Hvar, Brač, Korčula and others have abundance of vehicles for rent).
Besides credit cards, bring enough cash and traveller's cheques if you have them. Majority of times it is better to exchange your currency to Croatian Kunas (HRK) in Croatia. You can also use ATM cash machines when available. Don't rely on ATM-s too much, as sometimes they are unreachable. Lot's of restaurants and coffee shops accept credit cards, but some are not. Smaller and more remote ports may not have ATM-s, and restaurants/taverns may not accept credit cards. You can discuss this with your skipper and hostess, and they will have good idea where credit cards are accepted. Anyway, it is good idea to carry enough cash for purchasing daily supplies, anchor buoy fees (if applicable) and pay for dinners.
Electronics
When catamaran is moored in marina on shore power, it is possible to use 220V outlets (continental 2 pin plug adapter might be necessary) for charging phones, Go-Pro, other cameras, tablets etc. Since basically all catamarans have 12v sockets bring appropriate 12v charger (car plug) for your electronics.
What to pack checklist:
Clothes
T-shirts
Shorts
Swimsuits
Towels

shower towels (it is possible to get small and big towels in marina)
hand towels
beach towel

Windproof/waterproof jacket
Casual dress and wear
Sun hat
Deck shoes
Sailing gloves
Sandals
Wet weather gear (preseason/postseason)
Warm trousers (preseason/postseason)
Fleece/sweater (preseason/postseason)
Hygiene, medication and protection
Sunglasses with lanyard
Swimming glasses
Sunscreen/sun block (high SPF)
Lip salve/screen
Prescription medicines
Travel sickness pills
Insect repellant
First aid kit
Toiletries (shampoo, soap – can be purchased in Croatia)
Documentation and electronics
ID card/Passport/visa
Your sailing certificate
Driving licence
Travel insurance
EU medical card (EU citizens)
Credit cards/Cash/Euros
Camera (dont want to miss all the natural beauty 🙂
2 pin continental plug adapter
12v car-type charger for mobile phones, cameras etc.
Music CDs if you want to use boats' CD player
Included
All bed linen
Blankets…although you are unlikely to need them!
Navigation instruments (dividers etc.)
Pilot books or charts
Bimini and sun shades